As Americans prepare to file their 2022 taxA tax is a mandatory payment or charge collected by local, state, and national governments from individuals or businesses to cover the costs of general government services, goods, and activities. returns, the Internal Revenue Service (IRS)The Internal Revenue Service (IRS) is part of the U.S. Department of the Treasury and is responsible for enforcing and administering federal tax laws, processing tax returns, performing audits, and offering assistance for American taxpayers. remains mired in a backlog of millions of returns from previous tax filing seasons. The National Taxpayer Advocate issued a warning to lawmakers in her annual report to Congress that the backlog creates "challenges for the 2023 tax filing season before it even starts and [continues] frustration and delays for taxpayers."
Despite the expiration of pandemic-era relief, taxpayers this year will still have to contend with the backlog, wait times, and complexity of the underlying tax code.
Changes for the 2023 Tax Filing Season
Pandemic relief will not be an issue on 2022 returns, but for many taxpayers, the absence of relief also means smaller tax refunds than last year. For example, the following pandemic-era tax changes are no longer in effect:
The recovery rebates available as tax creditA tax credit is a provision that reduces a taxpayer's final tax bill, dollar-for-dollar. A tax credit differs from deductions and exemptions, which reduce taxable income, rather than the taxpayer's tax bill directly. s on 2020 and 2021 tax returns are not available in the 2022 tax year.
The expanded child tax credit (CTC)The federal child tax credit (CTC) is a partially refundable credit that allows low- and moderate-income families to reduce their tax liability dollar-for-dollar by up to ,000 for each qualifying child. The credit phases out depending on the modified adjusted gross income amounts for single filers or joint filers. reverts to its pre-2021 amount worth up to $2,000 per child, with an earnings requirement and limited refundability of $1,500.
The child and dependent care tax credit (CDCTC) reverts from $8,000 in 2021 to $2,100 for the 2022 tax year.
The above-the-line charitable deduction worth up to $600 for joint filers is not available for the 2022 tax year, but the itemized deductionItemized deductions allow individuals to subtract designated expenses from their taxable income and can be claimed in lieu of the standard deduction. Itemized deductions include those for state and local taxes, charitable contributions, and mortgage interest. An estimated 13.7 percent of filers itemized in 2019, most being high-income taxpayers. for charitable donations remains.
Taxpayers will also need to consider tax changes made under the Inflation Reduction Act (IRA) passed last summer, such as expanded tax credits for green energy. For this year's tax filing season, the IRS estimates that the IRA will "require creating or revising 24 tax forms as well as the creation or updating of 29 tax form instructions and three publications. The IRS will also need to modify 20 information technology systems (for tax return processing and compliance activities) to ensure that they can accommodate the new and revised tax forms."
In December, the IRS announced it is postponing the implementation of new Form 1099-K reporting requirements for this year's tax season, which would have significantly increased the number of tax forms issued to independent contractors and gig economy workers. Instead, the reporting change will kick in for the 2024 tax filing season.
Remaining Backlog, Wait Times, and Underlying Complexity of the Tax Code
A combination of long-standing operational deficiencies, a temporary closure due to the pandemic, and the now-expired pandemic relief produced a perfect recipe for a paper backlog. The IRS carried its backlog into 2021, then into 2022, and now into 2023.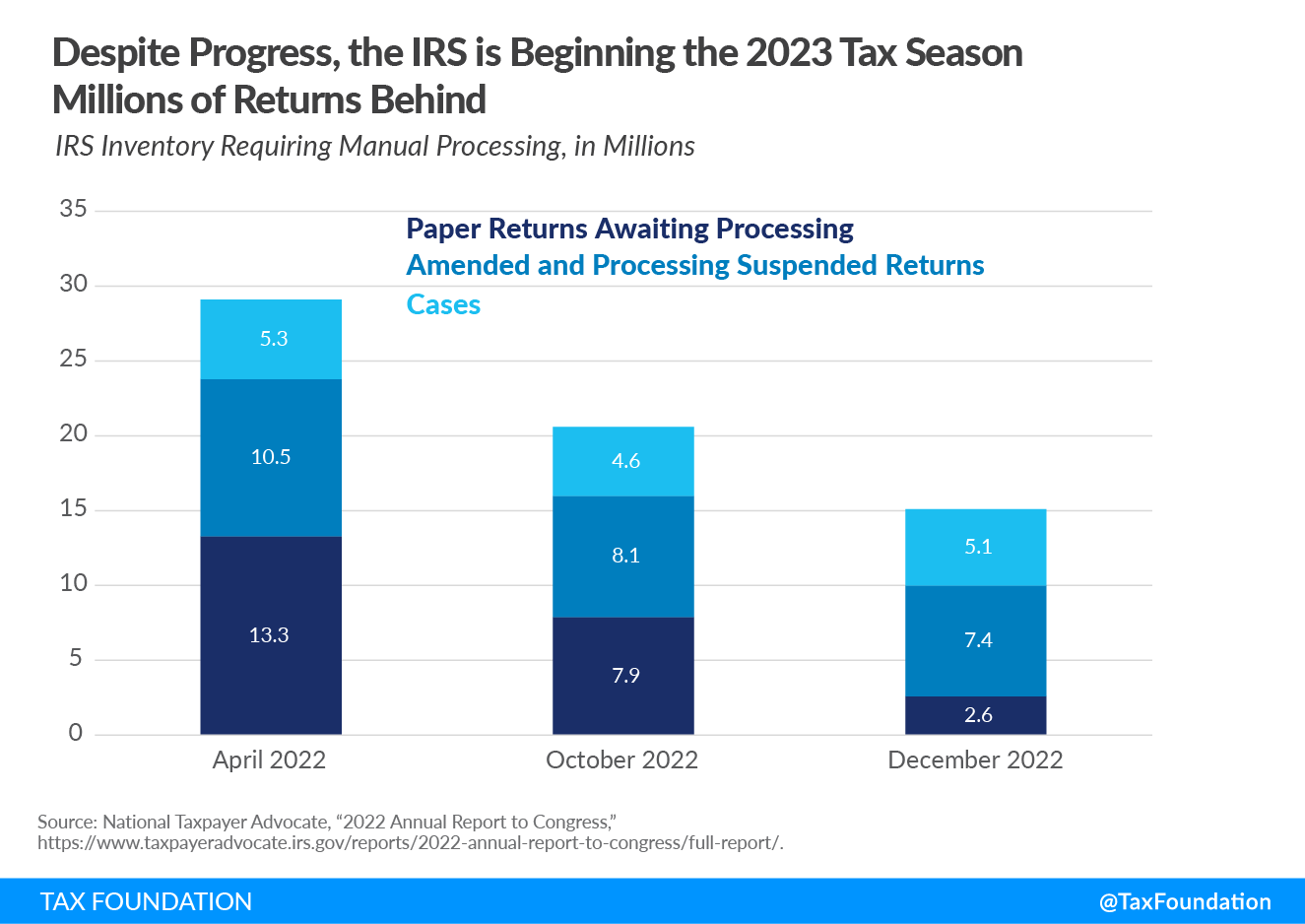 For taxpayers, the backlog translates into confusion and wait times, which can pile up because the IRS does not begin processing paper returns it receives for a new tax year until it first processes all the paper returns from the previous tax year.
Even when a taxpayer files electronically, they can find themselves stuck in the paper backlog if their e-filed return has an error. Unfortunately, errors were frequent last year as taxpayers tried to reconcile their Recovery Rebate and advanced CTC payments on their tax returns. As of November 2022, the IRS had sent out more than 17 million math error notices for the year as taxpayers made mistakes reconciling their credits. Taxpayer responses to the error notices went into the paper backlog.
And if a taxpayer tried to call the IRS for assistance, they had little chance of receiving it: only 13 percent of callers throughout Fiscal Year 2022 reached live assistance, little improvement over 11 percent in 2021.
Processing delays were the first of 10 "Most Serious Problems Encountered by Taxpayers," according to the Taxpayer Advocate's annual report. The complexity of the tax code was the second.
Estimates from last year indicate an individual taxpayer spent 13 hours and $240 on out-of-pocket costs to prepare and file an annual return. Our complex tax code spans some 9,834 code sections, with detailed subsections, and a six-volume set of corresponding regulations, according to the National Taxpayer Advocate.
Complexity doesn't just burden taxpayers, it also burdens the IRS as it tries to collect revenue and administer social programs in a timely manner. While additional funding for IRS modernization and hiring can be part of the solution, there is no guarantee the IRS will use additional funding wisely.
For example, the annual report explains, "the IRS missed opportunities before and during the pandemic, including not expeditiously using the $1.5 billion of additional funds provided by the American Rescue Plan Act of 2021 to hire additional employees and not implementing technology solutions such as return scanning." The Treasury Inspector General for Tax Administration has also recently highlighted similar challenges the IRS faces to implement additional funding.
If lawmakers learn any tax policy lesson from the past three years, let it be that simplifying the tax code is paramount. Simplicity can encourage compliance, reduce costs for individuals and small businesses, ease administrative workloads, and boost transparency. In the meantime, taxpayers and the IRS can expect continued frustration and delays.
Share