Sunday evening, leadership in the U.S. House and Senate came to an agreement over the details of a $900 billion coronavirus relief bill, to be attached to a broader $1.4 trillion omnibus which will fund the federal government for the 2021 fiscal year. Congress also voted to extend a continuing resolution (CR) to keep the federal government funded at current levels ahead of a vote on both the omnibus and the pandemic relief package on Monday.
The coronavirus relief bill extends and modifies several provisions first enacted in the CARES Act, Congress's $2.2 trillion pandemic relief law that was passed in March. With this package, lawmakers will have responded to the coronavirus and related economic hardship with a record-setting $3 trillion of fiscal support. The package extends relief through mid-March of 2021, providing support to help people and businesses get through the next several months of the pandemic.
Individual Provisions in the $900 Billion Coronavirus Relief Package
Extension of Unemployment Insurance Compensation Benefits
An 11-week extension of the unemployment insurance (UI) compensation benefits first provided in the CARES Act that are due to expire on December 26. This includes the Pandemic Unemployment Assistance (PUA) that extends UI benefits to workers who traditionally are ineligible, such as gig economy workers and independent contractors, and Federal Pandemic Unemployment Assistance (FPUA), which will provide an additional $300 per week supplement to state UI compensation.
Pandemic Emergency Unemployment Compensation (PEUC) originally providing an additional 13 weeks of UI benefits will also be extended for 11 weeks (for a combined maximum of 50 weeks) and will expire on March 14, 2021. Individuals receiving benefits beyond the standard 26-week period as of March 14th will continue receiving them through April 5th if they have not reached their maximum number of benefit weeks. Federal funding will be extended for states waiving their waiting week for benefits. Workers with at least $5,000 in self-employment income may be eligible for an additional $100 per week benefit as part of the Mixed Earner Unemployment Compensation to adjust for a lower UI base payment. $120 billion is allocated for the UI benefits in the bill.
Direct Payments to Individuals (Relief Rebates or "Stimulus Checks")
A second round of direct payments to individuals, modeled after the Recovery Rebates sent out as part of the CARES Act, but with important changes. The direct payments would be up to $600 per individual and qualified child, with no cap on household size. Adult dependents are not eligible. The rebate would be designed similarly to the Recovery Rebates, as they will be advanced taxA tax is a mandatory payment or charge collected by local, state, and national governments from individuals or businesses to cover the costs of general government services, goods, and activities. credits based on 2019 income and begin to phase out in value beginning at $75,000 for single filers, $112,500 for heads of household, and $150,000 for those married filing jointly. The payments phase out entirely at $87,000 for single filers with no qualifying dependents and $174,000 for those married filing jointly with no qualifying dependents (see Chart 1).
There are a few changes to the direct payments in this round of relief outside of the smaller total benefit. Children will be eligible for the same benefit amount as eligible adults, and families with members of mixed immigration status with a valid Social Security number for one spouse are also eligible for the payments, unlike with the CARES Act rebates.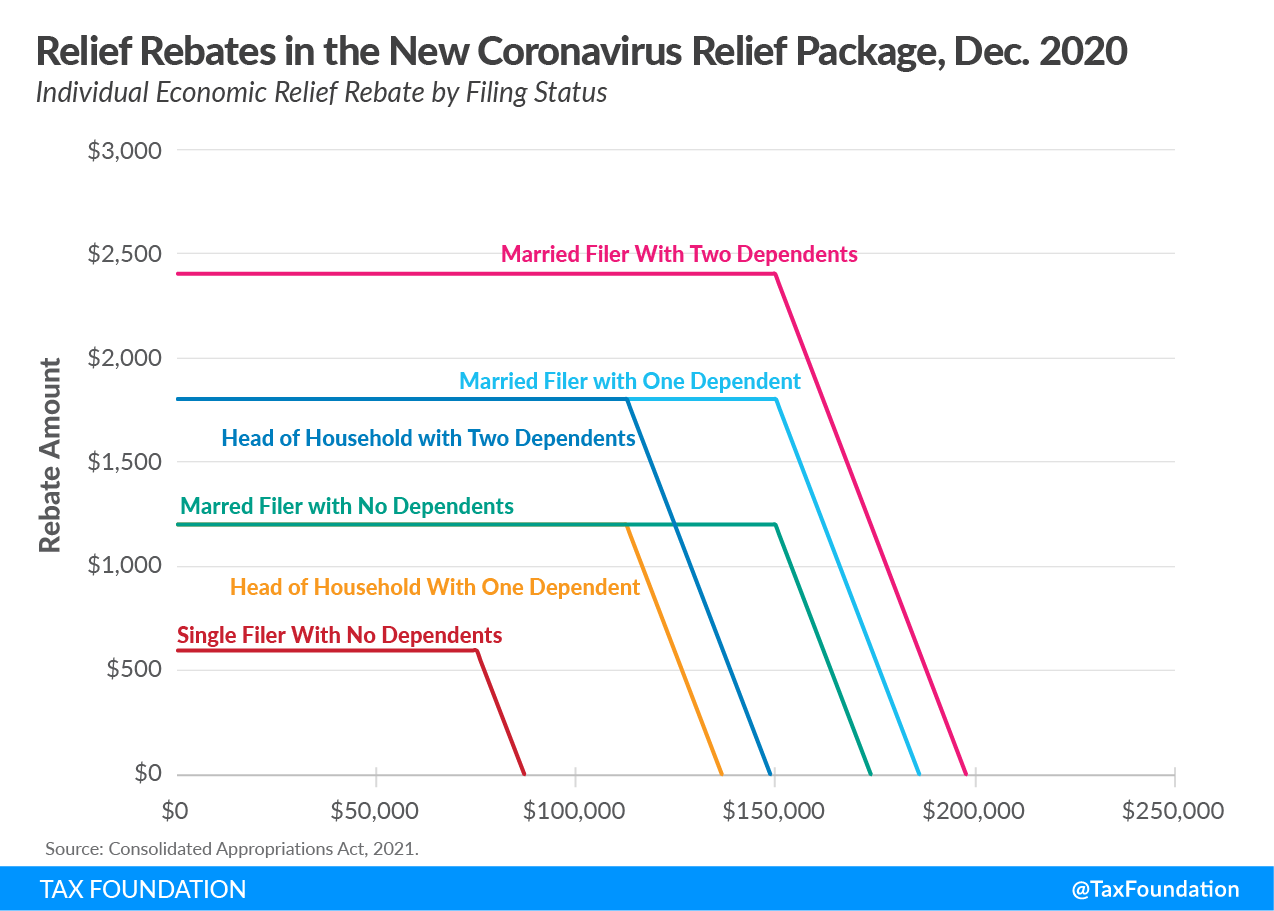 Table 1. Conventional Distributional Effect of Direct Payments in the New Coronavirus Relief Package
Income level
Percent Change in After-Tax Income
Share of Filers with a Rebate
Average Rebate Amount
0% to 20%
9.30%
100%
$818
20% to 40%
4.05%
100%
$951
40% to 60%
2.54%
100%
$963
60% to 80%
1.74%
99.9%
$1,086
80% to 90%
1.00%
56.4%
$916
90% to 95%
0.25%
41.8%
$315
95% to 99%
0%
2.2%
$10
99% to 100%
0%
0%
$0
Total
1.49%
91.4%
$872

Source: Tax Foundation General Equilibrium Model, October 2020.
The bill appropriates $166 billion for the direct payments. We estimate that the payments would cost $174 billion in federal revenue, according to the Tax Foundation General Equilibrium Model.
Child Tax CreditA tax credit is a provision that reduces a taxpayer's final tax bill, dollar-for-dollar. A tax credit differs from deductions and exemptions, which reduce taxable income, rather than the taxpayer's tax bill directly. & Earned Income Tax Credit
Adjustments to how the Child Tax Credit (CTC)The federal child tax credit (CTC) is a partially refundable credit that allows low- and moderate-income families to reduce their tax liability dollar-for-dollar by up to ,000 for each qualifying child. The credit phases out depending on the modified adjusted gross income amounts for single filers or joint filers. and the Earned Income Tax Credit (EITC)The Earned Income Tax Credit (EITC) is a refundable tax credit targeted at low-income working families. The credit offsets tax liability, the total amount of tax debt owed by an individual, corporation, or other entity to a taxing authority like the Internal Revenue Service (IRS), and can even generate a refund, with earned income credit amounts calculated on the basis of income and number of children. are calculated for the 2020 tax year. During the pandemic, many individuals eligible for those credits have earned lower incomes due to job loss or underemployment. This may reduce the credits they are eligible for when filing taxes next spring. This provision would use 2019 income to determine an individual's credit eligibility for the 2020 tax year.
Charitable Contribution
The above-the-line charitable contribution is extended through 2021 at $600 for those married filing jointly and $300 for other filers. This means taxpayers will be able to take the standard deductionThe standard deduction reduces a taxpayer's taxable income by a set amount determined by the government. It was nearly doubled for all classes of filers by the 2017 Tax Cuts and Jobs Act as an incentive for taxpayers not to itemize deductions when filing their federal income taxes. and deduct up to $600 in charitable giving when calculating their taxable incomeTaxable income is the amount of income subject to tax, after deductions and exemptions. For both individuals and corporations, taxable income differs from—and is less than—gross income. . For the 2020 tax year, taxpayers could deduct up to $300 above-the-line for charitable contributions.
Flexible Savings Accounts
Flexible Savings Account (FSA) balances can be rolled from the 2020 tax year into 2021, and 2021 balances can be rolled into 2022. This will help taxpayers with unused balances such as for childcare expenses who would normally lose the value of the FSA balance at the end of the tax year.
Employee-side Payroll TaxA payroll tax is a tax paid on the wages and salaries of employees to finance social insurance programs like Social Security, Medicare, and unemployment insurance. Payroll taxes are social insurance taxes that comprise 24.8 percent of combined federal, state, and local government revenue, the second largest source of that combined tax revenue. Deferral
For those opting into the White House's employee-side payroll tax deferral, the repayment deadline has been extended from April 2021 to December 31, 2021, lengthening the repayment period for those taxpayers.
Business Provisions in the $900 Billion Coronavirus Relief Package
Paycheck Protection Program (PPP)
Renewed funding of $284 billion for the Paycheck Protection Program (PPP) to provide forgivable loans to first- and second-time small business borrowers. The bill expands eligibility for nonprofits and includes set-asides for very small businesses and community-based lenders. Second-time loans are limited to businesses with fewer than 300 employees and at least a 25 percent drop in gross receipts in a 2020 quarter compared to the same quarter in 2019. The maximum loan size for second-time borrowers is $2 million. Businesses taking a PPP loan will now be able to take the Employee Retention Tax Credit (ERTC), when previously they were only allowed to opt into one or the other.
PPP loans can be used to pay qualifying expenses, which have been expanded to include expenses such as covered property damage, supplier costs, or worker protection expenditures in addition to employee wages or operating expenses like rent and utilities. When used for qualifying expenses, PPP loans are forgivable. The bill provides a simplified forgiveness application process for loans up to $150,000.
The bill also clarifies that businesses can deduct expenses paid with forgiven PPP loans. This clarification applies to old loans and to new loans and does not include guardrails or limitations. Typically, forgiven debt is considered taxable income. In the CARES Act, lawmakers specified that forgiven PPP loans would not count as taxable income. They also intended that expenses paid for with PPP loans would be deductible but did not specify so in law. Section 265 of the tax code generally prohibits firms from deducting expenses associated with income that is tax-free, so without specification, the Treasury Department ruled that expenses paid for with PPP loans were not deductible. This clarification results in a two-part subsidy to businesses comprised of deductions and tax-free loan forgiveness. Lawmakers intended this two-part subsidy when crafting the CARES Act, and the Joint Committee on Taxation scored the original provision as such. This clarification, a kind of technical correction, does not have a budget impact.
Economic Injury Disaster Loan Program & Small Business Administration (SBA) Debt Relief Payments
It also provides $20 billion for new EIDL grants (economic injury disaster loan program) for businesses in low-income communities, $43.5 billion for continued Small Business Administration (SBA) debt relief payments, and $2 billion for enhancements to SBA lending. An additional $15 billion of dedicated funding is set aside for live venues, independent movie theatres, and cultural institutions.
Employee Retention Tax Credit
Extension and expansion of the Employee Retention Tax Credit through July 1, 2021. The bill increases the refundable payroll tax credit from a maximum of $5,000 to $14,000 by changing the calculation from 50 percent of wages paid up to $10,000 to 70 percent of wages paid up to $10,000 for any quarter. The bill clarifies that businesses will now be able to take the Employee Retention Tax Credit and participate in the PPP.
Low-Income Housing Tax Credit
Increases allocations to states for the Low-Income Housing Tax Credit (LIHTC). This credit subsidizes the construction and rehabilitation of housing developments that have strict income limits for eligible tenants and their cost of housing.
Employer-side Social Security Payroll Tax Credits
Extension through March 2021 of the employer-side Social Security payroll tax credits to offset paid sick and family leave related to the coronavirus created in the Families First Coronavirus Response Act.
Deduction for Business Meals
Expansion of the deduction for business meals to 100 percent for 2021 and 2022. This will cost about $5 billion in federal revenue.
Tax Extenders
Extension or permanence for temporary provisions known as tax extenders.
Other Provisions in the $900 Billion Coronavirus Relief Package
Education, Medical, Nutrition, and Transit Relief
$82 billion in funding for colleges and schools, $10 billion in childcare assistance, and Pell Grant expansion
$13 billion to increase Supplemental Nutritional Assistance Program (SNAP) and child nutrition benefits
A ban on surprise medical billing
$63 billion for vaccine distribution, testing and tracing, and other health-care initiatives
$25 billion in rental assistance and extension of the eviction moratorium through January 31, 2021
$45 billion for transit agencies, airlines, airports, state departments of transportation, the motorcoach industry, and Amtrak
Several items of interest by policymakers did not make it into the package. For example, additional state and local aid is not in the relief bill. Similarly, liability protections for businesses reopening during the pandemic are not included.
The coronavirus relief bill represents the second-largest recovery legislation, behind only the CARES Act, for a combined total of more than $3 trillion in support. Continued fiscal support for small businesses, unemployed workers, households, and other entities will help bridge the gap until widespread vaccine distribution next year hopefully brings an end to the worst of the crisis. The next Congress and the incoming Biden administration may consider further relief and stimulus in early 2021.
Note: You can explore all of our analysis on the latest coronavirus relief legislation at the federal, state, and international levels with our dedicated COVID-19 Tax Resource Center.
Stay informed on the tax policies impacting you.
Subscribe to get insights from our trusted experts delivered straight to your inbox.
Subscribe
Share