What You'll Learn
Learn about how taxes can influence human behavior through the power of incentives.
See how different taxA tax is a mandatory payment or charge collected by local, state, and national governments from individuals or businesses to cover the costs of general government services, goods, and activities. policies have impacted everything around us, including the buildings we live in, the cars we drive, and even what we eat and wear.
Gain a deeper appreciation for the importance of designing tax policies that encourage positive economic behaviors.
Introduction
It's one thing to talk about the impact of taxes in the abstract—how they affect the size of the economy, levels of investment, or number of jobs. But tax policy is so powerful that we can see its effects everywhere in the world around us—literally.
You need look no further than the house you live in, the car you drive, the clothes you wear, or the food you eat to see the profound influence taxes can have on human behavior.
The Impact of Tax Policy on Architecture
As it turns out, fresh air and sunlight are weak incentives compared to the temptation of a lower tax bill. When 18th and 19th century governments in England, France, Ireland, and Scotland levied a tax on windows—intended as a crude proxy for wealth—building owners often responded by bricking over their windows.
Have you ever noticed that the houses in Amsterdam are abnormally narrow? This is not due to a unique taste in architecture, but instead a 16th century building tax that was assessed on the width of a property's façade.
Paris is famous for its use of the Mansard-style roof, which was designed to shelter residents not only from the weather but also from taxes that were levied on the number of floors below the roofline.
Greece is known for its blue waters, but what about its green pools? A luxury tax has inspired Greek pool owners to purchase green coverings and even dye their water green to camouflage their pools in satellite images, hoping to fool prying tax collectors.
The Impact of Tax Policy on Consumption
The Impact of Tax Policy on Transportation
Why Does it Matter?
If taxes are powerful enough to cause an individual to board up their windows or sacrifice the comfort of their car's AC for the seat of a bike, imagine the cumulative impact they can have on more important aspects of the economy.
Capital gains taxes provide a stark example.
Capital assets include everything owned and used for personal purposes, pleasure, or investment, including stocks, bonds, homes, cars, jewelry, and art. Whenever one of those assets increases in value—e.g., when the price of a stock you own goes up—the result is what's called a "capital gain."
In places with a capital gains taxA capital gains tax is levied on the profit made from selling an asset and is often in addition to corporate income taxes, frequently resulting in double taxation. Capital gains taxes create a bias against saving, leading to a lower level of national income by encouraging present consumption over investment. , when a person "realizes" a capital gain—e.g., sells an asset that has increased in value—they pay tax on the profit they earn.
Because capital gains are only taxed when realized, taxpayers get to choose when they pay their capital gains taxes. That makes them extremely responsive to tax changes.
Higher capital gains taxes cause investors to sell their assets less frequently, which leads to less taxes being assessed.
This effect isn't just theoretical—it's borne out clearly in the data, as demonstrated by the chart below. We can see that when the capital gains tax rate was increased in 1986, realizations fell dramatically and remained low for a decade. When the tax rate on capital gains was cut in 1997, realizations rose substantially.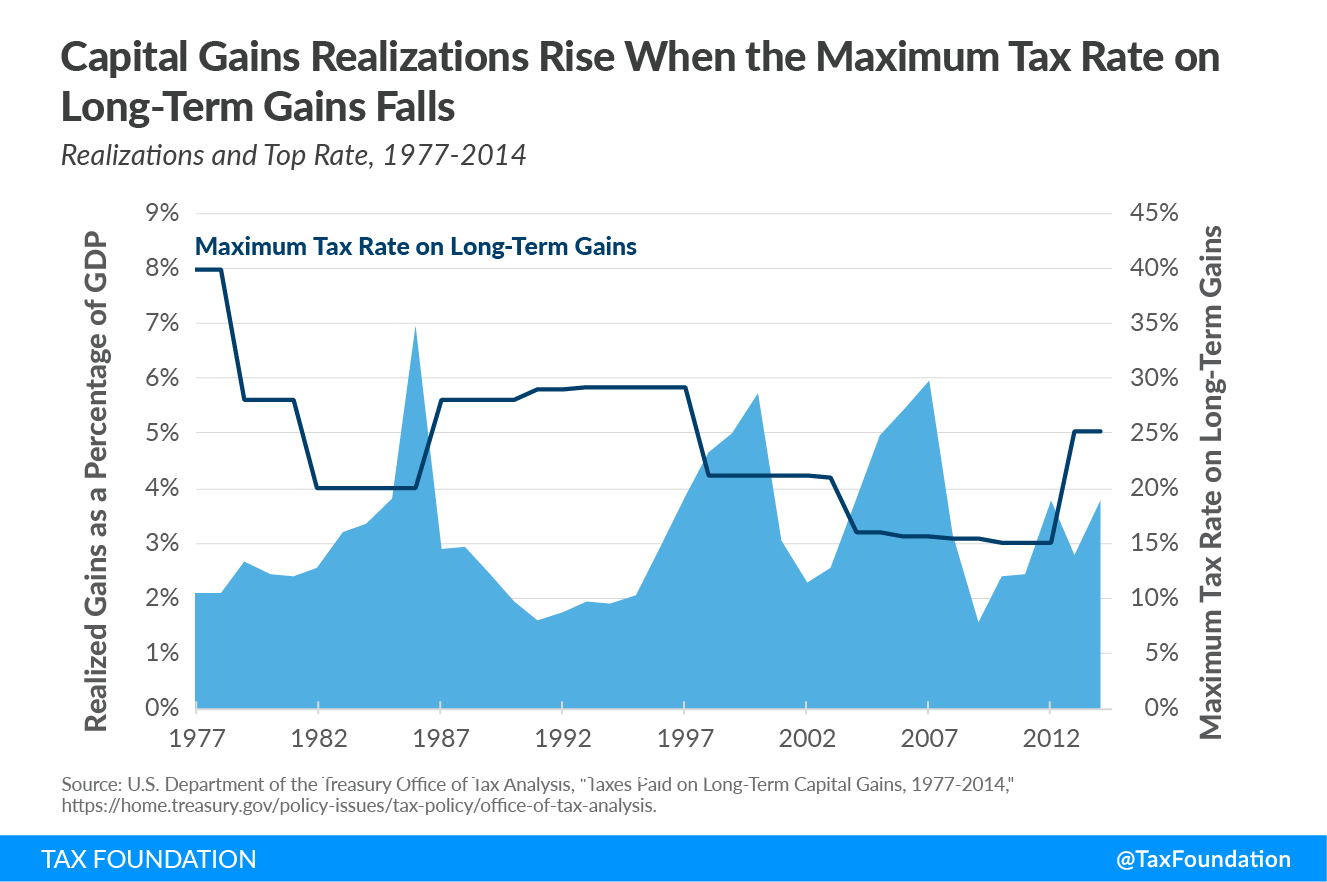 This should serve as a reminder to lawmakers that they ought to think carefully about the incentives they create through the tax code. Taxes don't just impact the cars we drive and candy bars we eat—they can also have significant effects on the economy as a whole.