Across the country, unemployment insurance (UI) benefits are playing an important role in helping individuals who have lost work due to the COVID-19 pandemic and associated economic fallout. The Coronavirus Aid, Relief, and Economic Security (CARES) Act, signed into law on March 27, provided a temporary, federally-funded increase in UI benefits and expanded benefits eligibility. Like the federal government, most states have responded to the pandemic by instituting their own policies to provide flexibility in how UI benefits are administered, such as by temporarily waiving one-week waiting periods and work search requirements.
While most states have relaxed certain policies to provide flexibility in how UI benefits are distributed during this crisis, so far, just over half the states have considered the other side of the equation: how UI benefits are funded at a time like this.
As states consider ways to contain the economic fallout from COVID-19, policymakers will want to ensure employees can return to work safely—and employers can rehire their employees—once the immediate public health crisis abates. One way policymakers can help expedite their state's economic recovery is by protecting employers from facing higher UI tax rates at a time when they can least afford to pay them.
As of mid-May, 26 states and the District of Columbia have declared—mostly through executive order or labor department guidance—that COVID-19-related layoffs will not be charged against employers for purposes of calculating the experience ratings that determine their UI taxA tax is a mandatory payment or charge collected by local, state, and national governments from individuals or businesses to cover the costs of general government services, goods, and activities. rates. This is a reasonable way to help protect businesses and industries that have been disproportionately impacted by mandated business closures and stay-at-home orders. It will also help ensure more businesses will be able to survive this crisis and rehire their employees once they can safely resume operations.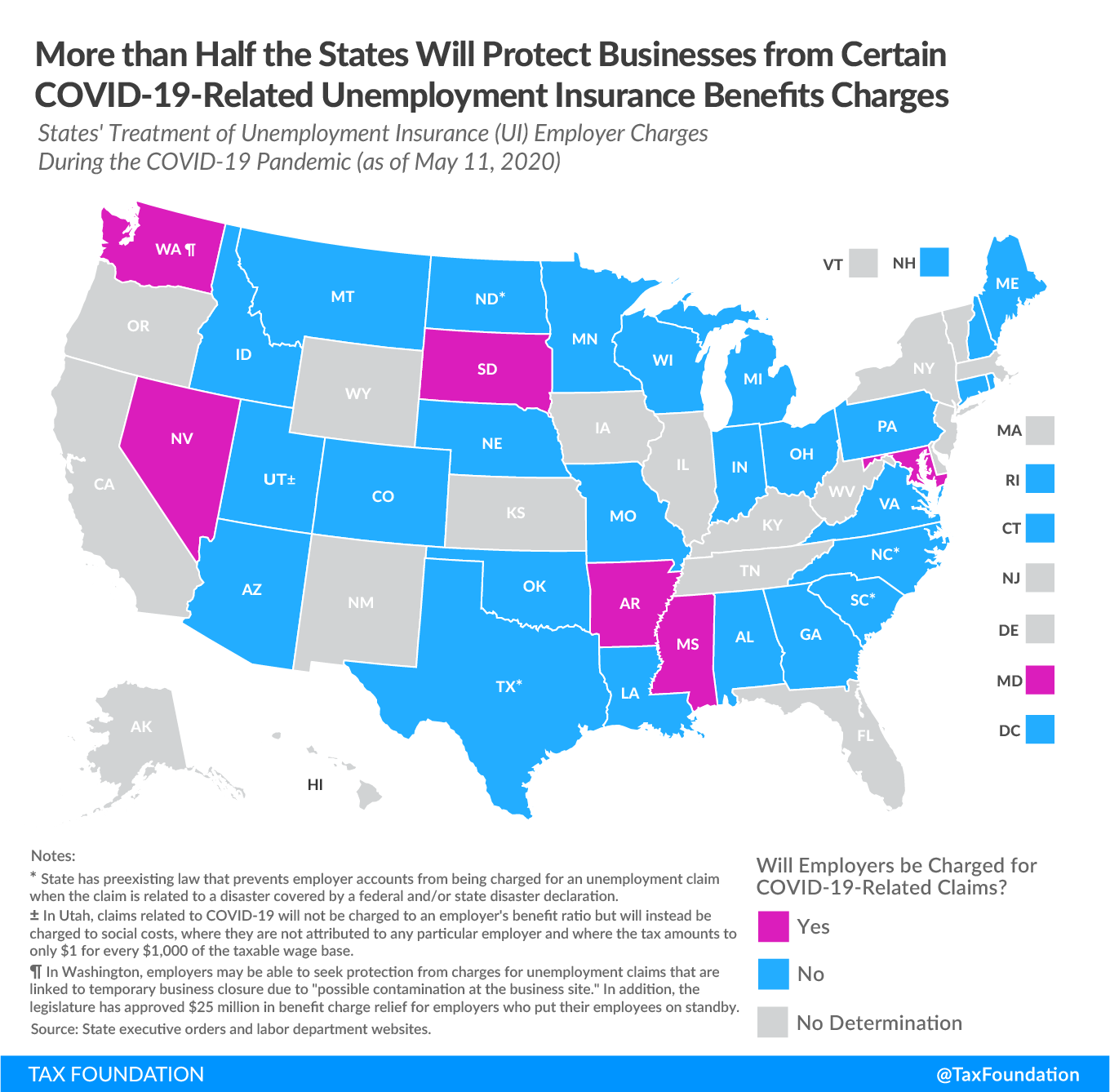 Stay informed on the tax policies impacting you.
Subscribe to get insights from our trusted experts delivered straight to your inbox.
Subscribe
States pay unemployment benefits from their UI trust funds, and UI trust funds are financed by payroll taxes levied on employers, known as UI taxes. As a social insurance program, state UI programs are designed so that the employers that lay off their employees with greater frequency face higher UI taxes than employers that maintain a good track record of avoiding layoffs. Each business's layoff history determines that business's "experience rating," and the employer's experience rating determines how high that business's UI tax rate will be. Most states have multiple UI tax rate schedules depending on current economic conditions and the current solvency of the UI trust fund, and each rate schedule has a spectrum of rates, whereby employers with poor experience ratings are subject to the maximum tax rate, while employers with better experience ratings enjoy lower rates.
For example, in Nevada, the taxable wage base is $32,500, so employers are taxed on the first $32,500 in wages they pay to each of their employees. Unlike states that have multiple rate schedules, Nevada has one rate schedule, with 18 rates that range from 0.25 percent to 5.4 percent depending on the employer's experience rating. This means an employer with an excellent experience rating will pay $81.25 in UI taxes for each employee whose wages exceed the taxable wage base, while an employer with a poor experience rating will pay $1,755 per employee whose wages exceed the taxable wage base. If employers' experience ratings are impacted by COVID-19-related layoffs in states like Nevada, in-state businesses will face massive UI tax rate increases when current year UI taxes become due in 2021 (and potentially for subsequent years, depending on the state).
Most states calculate UI tax experience ratings based on a one-year base period, meaning layoffs that occur in 2020 will have a significant impact on the amount of taxes a business owes in 2021. Other states use longer base periods, meaning layoffs that occur in 2020 will comprise a smaller share of total layoffs that are taken into consideration when calculating a business's experience rating but will be taken into consideration when calculating that business's experience rating for future tax years. For example, Maryland uses a three-year base period, so employers' 2020 UI tax rates, which come due in 2021, will be determined based on that employer's layoff experience between fiscal years (FYs) 2018 and 2020. However, this also means Maryland employers will continue to experience some of the impact of their 2020 layoffs for the UI taxes that will come due in 2022 and 2023.
Under normal circumstances, assigning businesses an experience rating makes sense: employers that contribute more to the utilization of the UI trust fund should contribute more to the funding of UI benefits than employers that rarely lay off their employees. However, amid a global pandemic, state-mandated business closures and stay-at-home orders have impacted some businesses and industries more heavily than others. As such, it does not make sense to dock employers' experience ratings for COVID-19-related layoffs or furloughs that were largely beyond their control. Instead, during the current crisis, states should suspend their usual practice of charging unemployment claims to employers' accounts for purposes of taxation. This will prevent employers' experience ratings and tax rates from being unduly impacted by pandemic-related benefits claims.
As shown in the above map, 26 states and the District of Columbia have waived all employer charges (meaning they have frozen experience rating impacts) that otherwise would occur due to COVID-19-related layoffs. For example, in Arizona, Gov. Doug Ducey (R) issued an executive order stating, "The Arizona Department of Economic Security may not consider unemployment benefits granted pursuant to this Executive Order against an employer's account." Notably, several of the states that are not charging employers for COVID-19-related claims, including North Carolina, North Dakota, South Carolina, and Texas, had prior laws in place that prevent employers from being charged for unemployment claims that arise due to any disaster that is covered under a federal disaster declaration (or under a state disaster declaration in South Carolina and Texas).
Meanwhile, six states—Arkansas, Maryland, Mississippi, Nevada, South Dakota, and Washington—have specifically said that based on current law and plans, employers will be charged for layoffs despite the extenuating circumstances surrounding this pandemic. (Washington has provided some flexibility; the state plans to charge employers for pandemic-related claims except for claims that arise due to the temporary closure of a business due to potential contamination of the business site. In addition, the legislature has appropriated $25 million to provide employers with relief from charges for employees who were put on standby.)
At this point in the current public health and economic crisis, states' priority should be ensuring businesses remain viable enough to rehire their workers when the pandemic abates; trust fund replenishment, while vitally important, is a secondary consideration to getting people back to work once the health crisis has lifted. While UI trust funds are running low in most states, the U.S. Treasury Department has issued guidance saying states may use their CARES Act Coronavirus Relief Fund (CRF) allocations to help pay out UI benefits that are not already covered by the federal government. This flexibility will help slow UI trust fund drawdown, though most states are still likely to accept Title XII Advances—essentially federal loans—to pay out claims at some point in the crisis. Still, both the CRF money and the availability of federal advances allow states to continue to pay out benefits without increasing burdens on struggling businesses just as many of those businesses are facing a severe liquidity crisis. Revenues will be necessary to repay federal loans and replenish funds, but timing matters. By preventing UI experience ratings from being affected by COVID-19-related layoffs, state policymakers can provide in-state businesses with the peace of mind to know pandemic-related UI claims will not cause their UI taxes to skyrocket at a time when they can least afford to pay them.
It is worth noting, however, that experience ratings are only one side of the coin: in many states, UI tax rates will rise even if experience ratings are held constant because economic conditions will automatically trigger many states to shift to a higher rate schedule, with higher minimum and maximum rates. In addition, trust fund drawdown will trigger the imposition of across-the-board solvency taxes in many states. Given this reality, states may also want to consider offering relief from less favorable rate schedules. But at the very least, states should be wary of letting pandemic-related benefits charges dramatically increase businesses' UI tax burdens.
More than Half the States Will Protect Businesses from Certain COVID-19-Related Unemployment Insurance Benefits Charges
States' Treatment of Unemployment Insurance (UI) Employer Charges During the COVID-19 Pandemic (as of May 11, 2020)
State
Will Employers be Charged for COVID-19-Related Claims?
Alabama
No
Alaska
No determination
Arizona
No
Arkansas
Yes
California
No determination
Colorado
No
Connecticut
No
Delaware
No determination
Florida
No determination
Georgia
No
Hawaii
No determination
Idaho
No
Illinois
No determination
Indiana
No
Iowa
No determination
Kansas
No determination
Kentucky
No determination
Louisiana
No
Maine
No
Maryland
Yes
Massachusetts
No determination
Michigan
No
Minnesota
No
Mississippi
Yes
Missouri
No
Montana
No
Nebraska
No
Nevada
Yes
New Hampshire
No
New Jersey
No determination
New Mexico
No determination
New York
No determination
North Carolina
No*
North Dakota
No*
Ohio
No
Oklahoma
No
Oregon
No determination
Pennsylvania
No
Rhode Island
No
South Carolina
No*
South Dakota
Yes
Tennessee
No determination
Texas
No*
Utah
No±
Vermont
No determination
Virginia
No
Washington
Yes¶
West Virginia
No determination
Wisconsin
No
Wyoming
No determination
D.C.
No

Notes:

* State has preexisting law that prevents employer accounts from being charged for an unemployment claim when the claim is related to a disaster covered by a federal and/or state disaster declaration.

± In Utah, claims related to COVID-19 will not be charged to an employer's benefit ratio but will instead be charged to social costs, where they are not attributed to any particular employer and where the tax amounts to only $1 for every $1,000 of the taxable wage base.

¶ In Washington, employers may be able to seek protection from charges for unemployment claims that are linked to temporary business closure due to "possible contamination at the business site." In addition, the legislature has approved $25 million in benefit charge relief for employers who put their employees on standby.

Source: State executive orders and labor department websites.
Share