New Hampshire is often mislabeled as a state with no income taxA tax is a mandatory payment or charge collected by local, state, and national governments from individuals or businesses to cover the costs of general government services, goods, and activities. , as it does not impose a state tax on income received from wages or salaries. But, the state does levy a tax on another form of income, interest and dividends. The New Hampshire Senate recently passed a bill, SB 404, which would phase out the state tax on interest and dividends over the next five years. The elimination of the tax would relieve New Hampshire residents who receive income from interest and dividends, and would classify the state as truly having no income tax.
Under current law, all annual income received from interest and dividends is taxed at a 5 percent rate. The bill proposes to phase out the tax by 1 percent each year beginning in 2020, until the tax is fully eliminated by fiscal year 2025. Once fully phased out, New Hampshire will join the seven other states – Alaska, Florida, Nevada, South Dakota, Texas, Washington, and Wyoming – that do not impose such a tax. Tennessee passed a similar measure in 2016 and has begun phasing out its 6 percent rate. The tax will be completely eliminated by 2022.
New Hampshire's Department of Revenue Administration estimates the change would reduce revenues by $22 million in fiscal year 2021, increasing to $100 million in fiscal year 2025. This moderate phase-out timetable ensures that the state has sufficient time it needs to mitigate any revenue decreases.
The goal of the bill is to officially make New Hampshire a state with truly no income tax and to ensure those greatly burdened by the tax do not emigrate from the state to escape it. The enactment of SB 404 would even further improve the state's business tax competitiveness in the northeast. New Hampshire currently ranks seventh overall in our State Business Tax Climate Index, and is the only state in the northeast to rank in the top 10. When the elimination of the tax on interest and dividends is fully phased in, New Hampshire would move to fourth in our Index, giving New Hampshire one of the most competitive tax codes in the nation.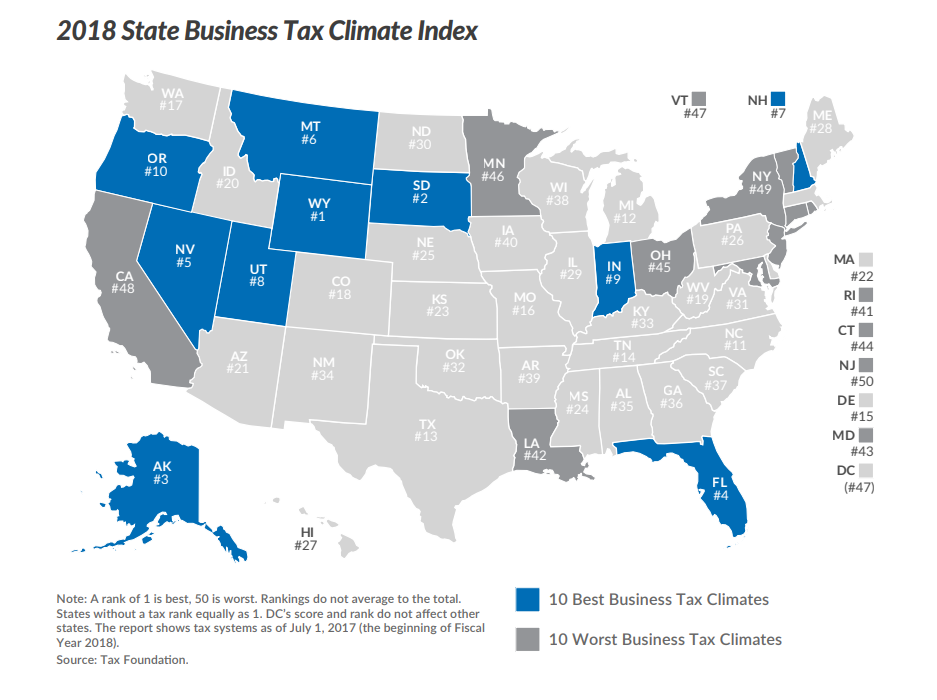 Share