In the coming weeks, we will break down our recently released 2018 State Business Tax Climate Index with several maps illustrating corporate, individual, sales, property, and unemployment insurance taxA tax is a mandatory payment or charge collected by local, state, and national governments from individuals or businesses to cover the costs of general government services, goods, and activities. rankings. Today, we look at corporate taxes.
The corporate tax component of our Index measures the impact of each state's principal tax on business activities and accounts for 19.0 percent of each state's total score.
Unlike other studies that look at overall tax burdens, the Index focuses on the structure of each state's tax system. Our corporate tax component, for example, scores states not just on rates and brackets, but on how well they handle net operating losses, whether the state levies an economically harmful gross receipts-style tax, and whether a state indexes its brackets to inflationInflation is when the general price of goods and services increases across the economy, reducing the purchasing power of a currency and the value of certain assets. The same paycheck covers less goods, services, and bills. It is sometimes referred to as a "hidden tax," as it leaves taxpayers less well-off due to higher costs and "bracket creep," while increasing the government's spending power. , among other things.
Click the map below to launch an interactive version of our corporate tax rankings, including a detailed landing page showing how your state compares.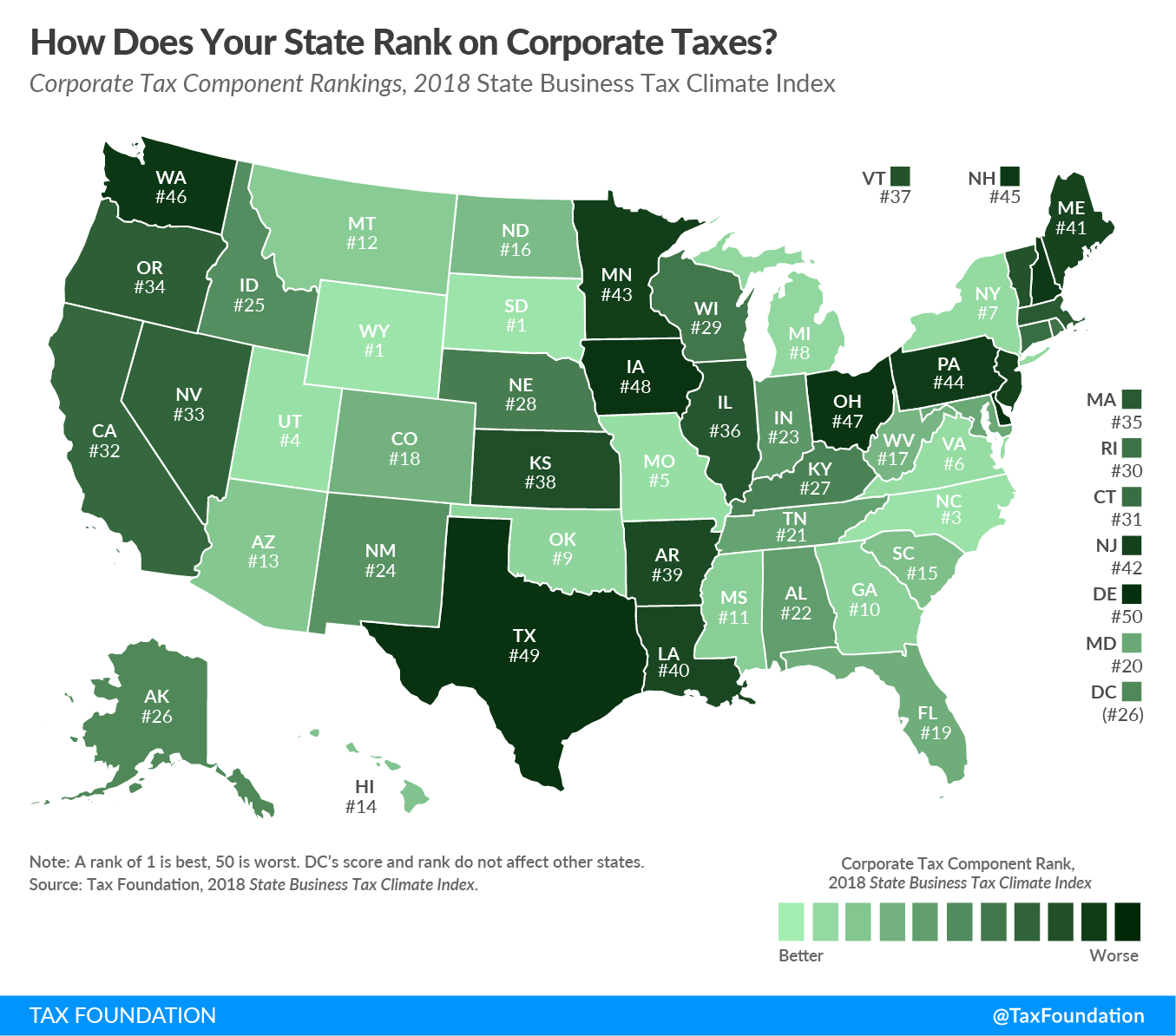 The table below shows detailed corporate tax scores and rankings for each state from 2015 to 2018, as well as component rank and score changes since last year. To learn more about how we determined these rankings, read our full methodology here.
Corporate Tax Component of the State Business Tax Climate Index (2015–2018)
2015 Rank
2015 Score
2016 Rank
2016 Score
2017 Rank
2017 Score
2018 Rank
2018 Score
Change from 2017 to 2018
Rank
Score
Note: A rank of 1 is best, 50 is worst. All scores are for fiscal years. DC's score and rank do not affect other states.
Source: Tax Foundation.
Alabama
25
5.15
23
5.19
14
5.53
22
5.33
-8
-0.20
Alaska
27
5.03
28
4.99
27
4.99
26
4.99
+1
0.00
Arizona
23
5.31
21
5.37
19
5.43
13
5.55
+6
+0.12
Arkansas
37
4.69
39
4.65
39
4.60
39
4.59
0
-0.01
California
32
4.87
34
4.83
33
4.82
32
4.82
+1
0.00
Colorado
13
5.57
15
5.52
18
5.44
18
5.44
0
0.00
Connecticut
30
4.92
32
4.88
32
4.88
31
4.87
+1
-0.01
Delaware
50
3.14
50
3.08
50
2.77
50
2.77
0
0.00
Florida
14
5.54
16
5.49
19
5.43
19
5.42
0
-0.01
Georgia
9
5.83
9
5.78
10
5.73
10
5.72
0
-0.01
Hawaii
10
5.82
10
5.77
11
5.73
14
5.53
-3
-0.20
Idaho
22
5.33
22
5.28
24
5.25
25
5.25
-1
0.00
Illinois
45
4.21
33
4.86
26
5.03
36
4.66
-10
-0.37
Indiana
28
5.03
24
5.09
23
5.27
23
5.32
0
+0.05
Iowa
48
3.75
48
3.71
48
3.75
48
3.75
0
0.00
Kansas
36
4.69
38
4.65
38
4.61
38
4.61
0
0.00
Kentucky
26
5.06
27
5.01
28
4.95
27
4.95
+1
0.00
Louisiana
21
5.34
36
4.78
40
4.59
40
4.59
0
0.00
Maine
43
4.36
42
4.33
41
4.51
41
4.51
0
0.00
Maryland
16
5.49
18
5.44
21
5.42
20
5.42
+1
0.00
Massachusetts
35
4.80
37
4.75
36
4.73
35
4.73
+1
0.00
Michigan
7
5.87
7
5.81
8
5.76
8
5.76
0
0.00
Minnesota
41
4.42
43
4.19
43
4.39
43
4.39
0
0.00
Mississippi
11
5.73
12
5.68
12
5.61
11
5.61
+1
0.00
Missouri
4
6.05
3
6.00
5
5.96
5
5.95
0
-0.01
Montana
17
5.48
19
5.43
13
5.59
12
5.59
+1
0.00
Nebraska
29
4.99
29
4.95
29
4.92
28
4.92
+1
0.00
Nevada
1
10.00
26
5.07
34
4.78
33
4.78
+1
0.00
New Hampshire
47
3.82
47
3.79
47
3.83
45
3.99
+2
+0.16
New Jersey
38
4.54
40
4.50
42
4.49
42
4.49
0
0.00
New Mexico
34
4.85
25
5.09
25
5.11
24
5.25
+1
+0.14
New York
20
5.37
11
5.71
7
5.81
7
5.80
0
-0.01
North Carolina
24
5.26
6
5.83
4
5.98
3
6.18
+1
+0.20
North Dakota
19
5.40
14
5.59
16
5.51
16
5.51
0
0.00
Ohio
44
4.32
46
3.98
46
3.92
47
3.92
-1
0.00
Oklahoma
8
5.86
8
5.81
9
5.76
9
5.75
0
-0.01
Oregon
33
4.86
35
4.81
35
4.78
34
4.78
+1
0.00
Pennsylvania
42
4.41
44
4.18
44
4.19
44
4.18
0
-0.01
Rhode Island
39
4.52
31
4.93
31
4.89
30
4.89
+1
0.00
South Carolina
12
5.65
13
5.60
15
5.53
15
5.53
0
0.00
South Dakota
1
10.00
1
10.00
1
10.00
1
10.00
0
0.00
Tennessee
15
5.52
17
5.47
22
5.42
21
5.42
+1
0.00
Texas
49
3.45
49
3.42
49
3.45
49
3.65
0
+0.20
Utah
5
6.00
4
5.95
3
6.05
4
6.04
-1
-0.01
Vermont
40
4.51
41
4.47
37
4.65
37
4.65
0
0.00
Virginia
6
5.91
5
5.86
6
5.81
6
5.81
0
0.00
Washington
46
3.94
45
4.09
45
3.94
46
3.94
-1
0.00
West Virginia
18
5.42
20
5.38
17
5.50
17
5.50
0
0.00
Wisconsin
31
4.91
30
4.94
30
4.92
29
4.92
+1
0.00
Wyoming
1
10.00
1
10.00
1
10.00
1
10.00
0
0.00
District of Columbia
38
4.66
38
4.74
28
4.96
26
5.00
+2
+0.04
Share