Yesterday, President Trump announced that the administration is considering additional Section 301 tariffs on another $100 billion worth of Chinese goods, escalating tension and threatening gains from taxA tax is a mandatory payment or charge collected by local, state, and national governments from individuals or businesses to cover the costs of general government services, goods, and activities. reform in what many are now calling a trade war. This announcement comes on the heels of other tit-for-tat actions threatened this week, bringing the total of proposed Section 301 tariffTariffs are taxes imposed by one country on goods or services imported from another country. Tariffs are trade barriers that raise prices and reduce available quantities of goods and services for U.S. businesses and consumers. s to $150 billion worth of Chinese goods. These escalations could potentially claw back many of the benefits that businesses and households expected to see from the Tax Cuts and Jobs Act (TCJA).
Considering just the reduction in the corporate tax rate, for example, the TCJA made businesses at least 40 percent more competitive globally (by reducing the rate from 35 percent to 21 percent). This, and other changes from the TCJA, should increase investment, employment, and incomes in the United States. However, if new tariffs were imposed, they would reduce trade and increase costs for U.S. firms and consumers, resulting in a negative impact on economic output and income.
In terms of relative size, in 2018, businesses and households could have expected the TCJA to reduce tax burdens by nearly $136 billion. On the other hand, 25 percent tariffs imposed on $150 billion worth of imports from China annually would act as a nearly $38 billion tax increase on American firms and consumers in 2018. Notably, this increase would be on top of increased costs from tariffs on steel and aluminum as well as washing machines and solar panels, resulting from other actions the Trump Administration has taken on trade this year.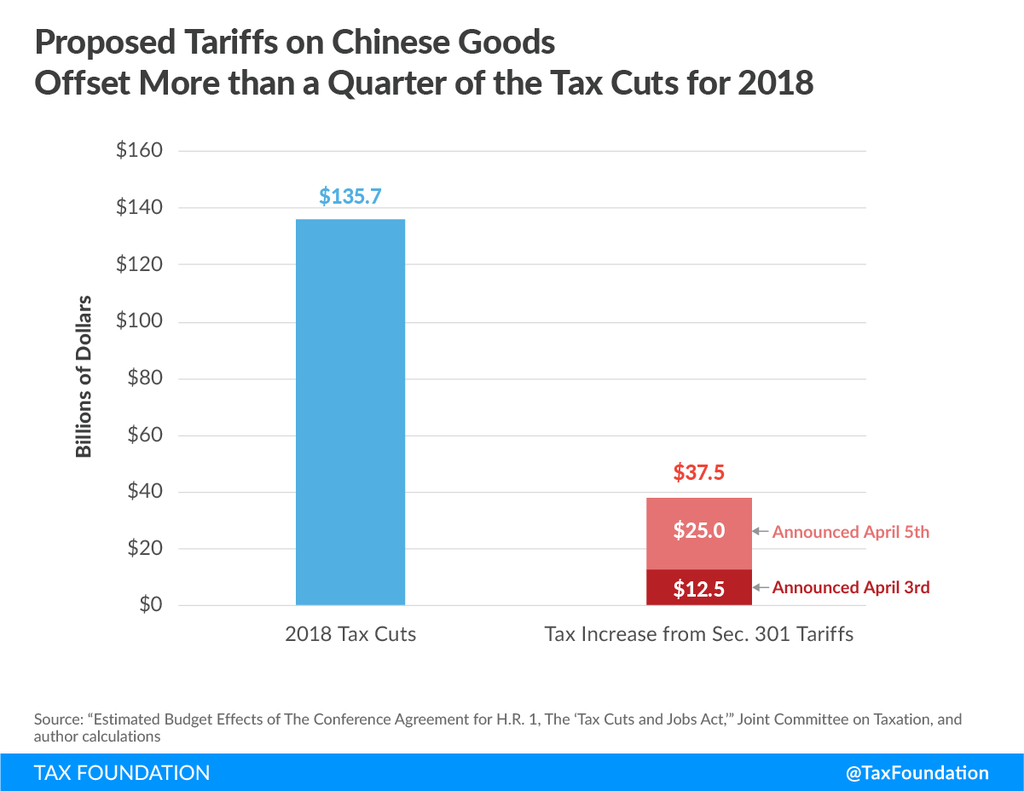 Rather than playing a game of chicken with the U.S. economy, the administration should allow the TCJA to do its job and work with allies and the World Trade Organization to address unfair trade practices. Tariffs will not make us more competitive.
Share